Thrissur or originally Thri shiva perur is also known as the "cultural capital" of Kerala due to its rich cultural heritage, religious and spiritual leanings and archeological wealth. The district has some of the most important temples churches and mosques. It is endowed with splendid scenic beauty as well.
The mention of Thrissur is incomplete without the mention of the Thrissur pooram, a the temple festival held at Thekkinkad Maidan, which is one of  the most important religious and socio- cultural gathering in Kerala, attended by people from all over the globe. A trip to Kerala without a pit stop at Thrissur isn't complete.
Below are some of the important places to visit in Thrissur:
Kerala Kalamandalam: temple of art.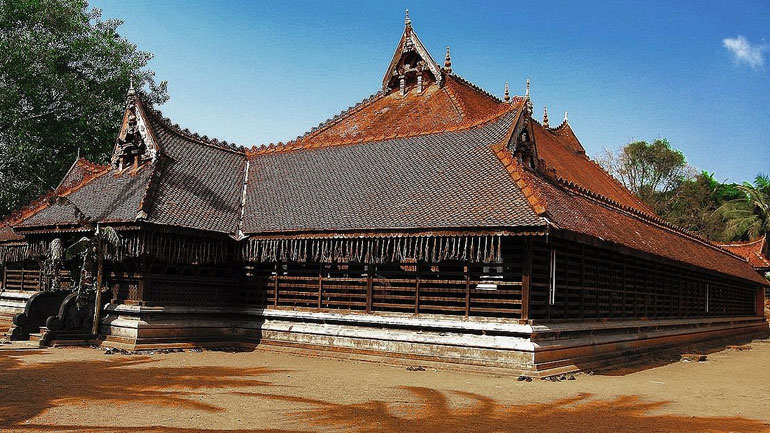 Situated in Cheruthuruthy, Thrissur along the banks of Nila, kalamandalam, was founded by Padmabhooshan Vallathol Narayana Menon in1930. From the year 2006 Kerala Kalamandalam has accorded the status of "Deemed University of Art and Culture" from the Government of India. It was initially conceived as a centre to preserve the art forms of kathakali, koodiyattam and mohiniyattam which were at the verge of extinction. Today it offers courses in thullal, kuchipudi, bharatanatyam and nangiar koothu as well. Students receive training in percussion instruments; chenda, maddalam and mizhave here. It is a residential facility where masters as well as pupils live within the kalamandalam following the gurukula sampradaya.
The complex is also house to the only koothambalam or natyagruha (traditional dance theater) in kerala built outside a temple complex. This architectural reminder of a bygone era consists of an aniyara (green room) the rangam (stage) and mridanga patha (where drum is kept). Watching a recital here is an unforgettable experience in itself.
As part of promoting and educating the public about various art forms, Kerala Kalamandalam offers a tour of the facility named "a day with the masters" where one will be taken through the campus and will get a firsthand experience of the grandeur of this place and its great cultural history.
The nearest airport is the Cochin International airport at a distance of 81 kms and the Shornur railway station at a distance of 4 kms.
Tour Timings: 9:30 am- 1:00pm (all working days except in the months of april – may)
Tour cost: INR 1000 (Indian nationals)
USD 20 (foreign nationals)
Athirappilly Waterfalls: the untouched beauty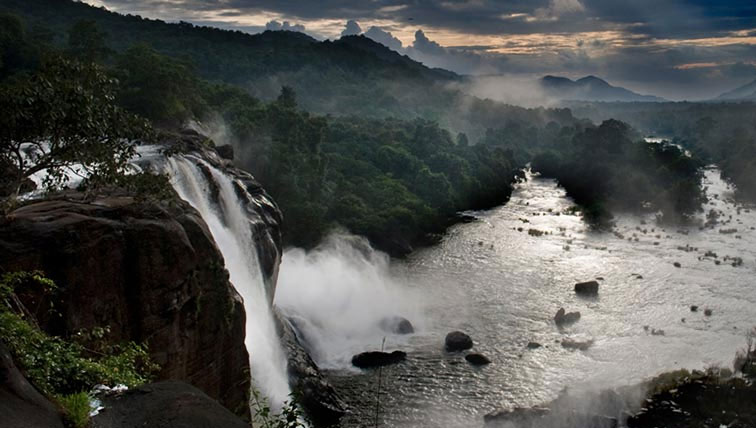 Located at the edge of Sholayar forest ranges, this picturesque falls, is a popular picnic spot. The sheer enormity of these waterfalls is breathtaking.  It is 80 feet high and is often called the "Niagara of India". It originates in the Anamudi Mountains of the Western Ghats and joins the Chalakkudy River to ultimately join the Arabian Sea.
The river is a biodiversity hotspot with around 85 species of fresh water fish living in it. The Athirappilly forest is also inhabited by different rare species of birds and animals.
The falls never dry out and can be visited anytime during the year but it is at its full glory during the monsoons.
These waterfalls are located at a distance of 32kms from Chalakkudy. The nearest airport is the Cochin International airport is at a distance of 40kms and Chalakkudy railway station is the nearest railway station, 32kms away.
Best time to visit: September- January
Timings: 8:00 am – 5:00pm
Other important waterfalls in Thrissur are:
Vazhachal waterfalls
Ilanjippara waterfalls
Pattathipara waterfalls
Marottichal waterfalls
Chavakkad Beach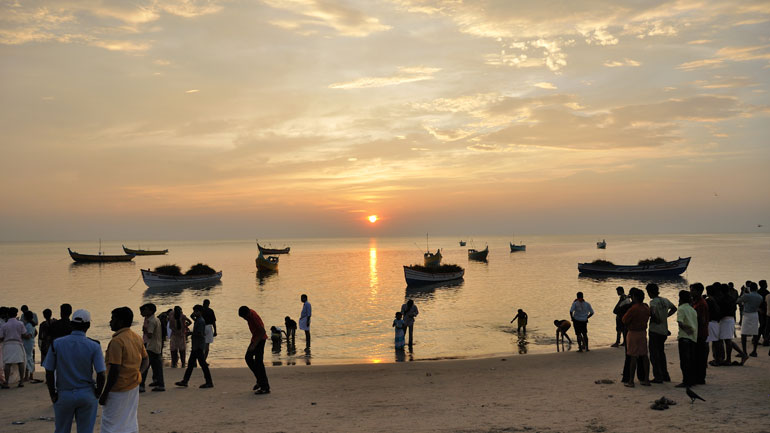 Situated in the Chavakkad Municipality of Thrissur district, Chavakkad beach lies on the coasts of Arabian Sea.
Famous for its Azhimukham (the merging point of river and sea), this beach is a favorite tourist spot for both domestic and international tourists alike. This beach situated merely 5kms from Guruvayoor town is a lovely vision of natural beauty and has an enticing quality to it.
It attracts thousands of tourists every year who arrive to experience the calming waves, the magnificent sunsets, and the energizing dips in its waters. This is also a spot for bird watching and many species of migratory birds arrive these shores every year.
Ramachapadam, a vast farmland of ayurvedic herb, ramacham can be seen nearby. The place is famous for its authentic ayurvedic massages. There are shacks along the beach which offer mouthwatering sea food prepared in traditional Kerala style.
Chavakkad beach is at a distance of 79kms from Cochin International airport, 5kms from Guruvayoor railway station and 29kms from Thrissur railway station.
Other important beach in Thrissur is:
Snehatheeram beach
Peechi Dam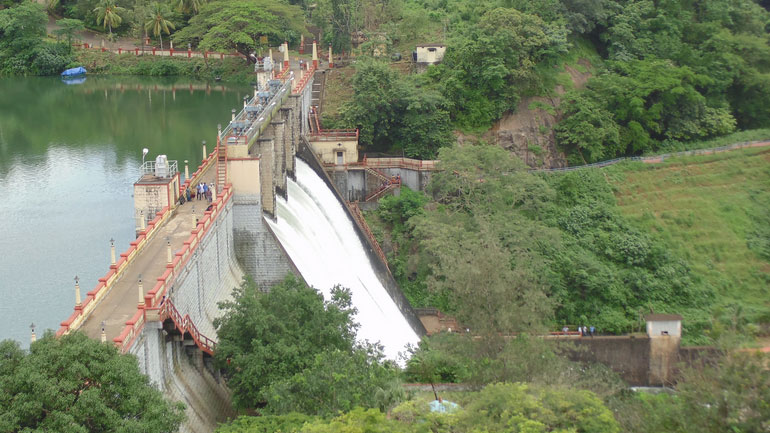 One of the oldest dams in Kerala, Peechi dam was constructed as part of an irrigation project for surrounding villages in Thrissur. The dam was opened in 1957 and since been under the Irrigation Department of Kerala. The dam also provides drinking water to the inhabitants of Thrissur. E.Ikkanda Warrier was the architect of this dam standing at a height of 8.46 meters.
Created across the Manali River the dam gives a beautiful view of the water falling out through the water gates as well as that of the vast reservoir.
This dam is at a distance of 65kms from Cochin International airport and 22 kms from Thrissur railway station.
Entry fee: INR 5 (children)
INR 10 (adults)
Timings: 8:00 am – 6:30pm
Other important dams in Thrissur:
Chimmony dam
Poomala dam
Vazhani dam
Peringalkuthu dam
Asurankundu dam
Chimmony Wildlife Sanctuary
Situated along the Western Ghats in Thrissur district, Chimmony wild life sanctuary spreads over 85 square kilometers.
It forms a continuous protected area of 210 square kms along with the adjacent Peechi – Vazhani wild life sanctuary. Chimmony dam is located within this sanctuary.
Sheltering diverse flora and fauna, the sanctuary is situated on the western slopes of Nelliyampathi hills. It houses as many as 192 recorded bird species. Globally threatened species like the tiger, Asian elephant, wild dogs etc are found here. Two colonies comprising of 52 "Malaya" tribal families also live within the sanctuary.
The sanctuary was established in 1984 and is under the administration of the forest department of Kerala.
Visitors can take part in a number of activities like forest trekking, bamboo rafting, and moonlight rafting etc within the sanctuary.
It is situated at a distance of 62kms from Cochin International airport and 30kms from Thrissur railway station.
Other important wildlife sanctuary in Thrissur:
Peechi – Vazhani wildlife sanctuary
Vadakkunnathan Temple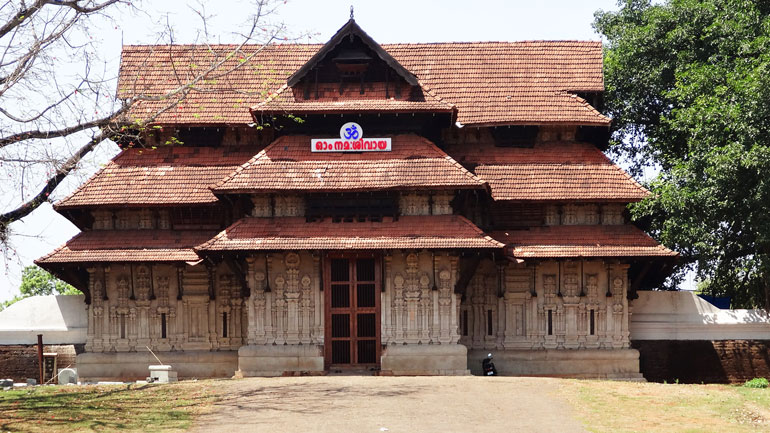 According to the legends, Parashurama who created Kerala from the sea is believed to have built the Vadakkunnatha temple. One of the oldest in Kerala, Vadakkunnathan temple is the icon of Thrissur.The name Thrissur is derived from "thiru – shiva – peroor" which literally translates to "the city of the sacred Shiva". The lives of people here is incomplete without this temple and its annual festival the pooram, which attracts hundreds of thousands of people from all over the world.
According to some stories, after the creation of Kerala, Parashurama requested Lord Shiva to bless this land and the place where Shiva manifested his presence in the form of a linga is said to be the sri moolasthanam (place of origin) of the temple. The temple is also said to have been constructed by Perumthachan who is supposed to have lived during the 7th century.
The temple complex spread over 9 acres of land is enclosed within a massive stone wall. It is a classic example of the traditional temple architecture style of Kerala. Situated towards the four cardinal directions (east, west, north and south) are the 4 gopurams (monumental towers) of the temple.
Ancient ritualistic art forms of koothu, nangiyar koothu and koodiyaattom are staged in the koothambalam, within the temple complex. It is believed to have been constructed by Velanezhy Nambudiri, a master craftsman. The temple is also famous for its mural paintings adorning its walls. It also houses a museum of ancient paintings, wood carvings and art pieces.
The temple has been recommended by the Archeological Survey of India to be listed in the UNESCO world heritage sites.
It is 47kms from the Cochin International airport and 1.5kms from Thrissur railway station.
Timing:  4:00am – 10:30 am
5:00 pm – 8:30 pm
Other important temples in Thrissur:
Paramekkavu temple
Thriprayar Sri Rama temple
Thiruvambadi Krishna temple
Koodalmanikyam temple
Thiruvanchikulam Mahadeva temple
Arattupuzha temple
Parakkottu Kavu temple
Ivor Madom temple
Shatrughna temple
Guruvayoor temple
Mammiyoor temple
Thrissur Zoo and Museum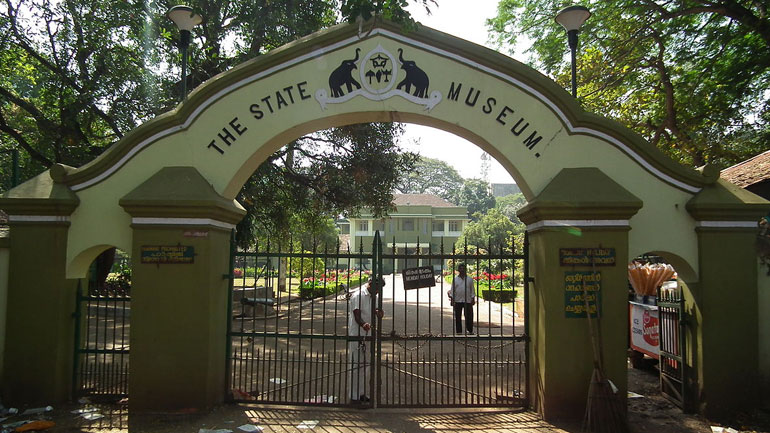 Opened in 1885, one of the oldest zoos in the country, Thrissur zoo is now also called the State Museum and Zoo. It houses a wide variety of animals, reptiles and birds. The museum section encompasses a Natural History museum and an Art museum, reminders of the socio-cultural backdrop of a bygone era. The zoological as well as the botanical garden comprises the zoo.
Spread over 13.5 acres, this zoo and museum have a large number species of flora and fauna. The State Museum and Zoo is to be shifted to Puthur to an area of 306 acres.
The thrissur zoo is at a distance of 46kms o from Cochin International airport and 3 kms from Thrissur railway station.
Timings: 9:00am – 5:00pm (every day except Mondays)
Other important museums in Thrissur:
Vaidyaratnam Ayurveda museum
Devaswom museum
Appan Thampuran smarakam
Vallathol museum
Mural Art museum
Archeological and art museum
Shakthan Thampuran Palace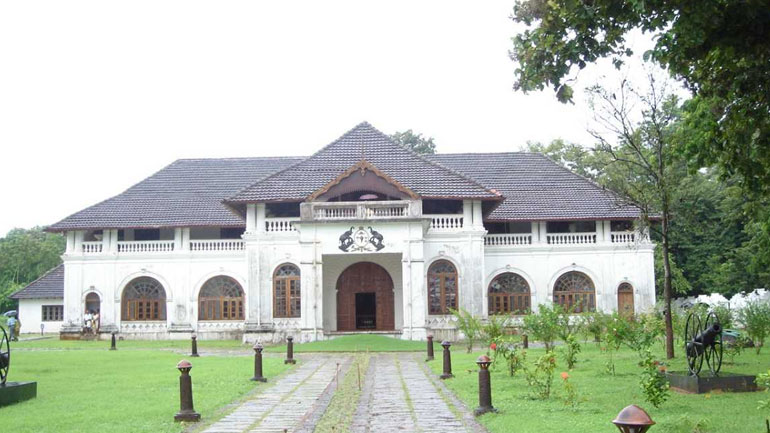 One of the iconic examples of the amalgamation historic, cultural and architectural significance, the Shakthan Thampuran palace was converted in to a heritage museum in 2005.
The palace earlier popularly known as the Vadakkekkara Kovilakam was reconstructed by Rama Varma Shakthan Thampuran in 1795 in a seamless mixture of traditional Kerala and Dutch style architecture.
The reign of Shakthan Thampuran (1790 – 1805) popularly known as Shakthan is considered the golden era of Kochi and during this period is when he reconstructed the kovilakam into its present form.
This palace museum comprises of the bronze gallery, the sculpture gallery, the numismatics gallery, gallery of household utensils and the megalithic gallery etc displaying bronze statues, granite statues, old coins, household items made of bronze and copper, exhibits from the stone age etc respectively.
The palace also has an ancient serpent grove, a heritage garden and an archeological garden.
It is located at a distance of 58kms from Cochin International airport and 2kms from Thrissur railway station.
Timings: 10:00 am – 5:00pm (every day except on Mondays)
Other important palaces in Thrissur:
Kodungallur kovilakam
Kollengodu palace
Puthen kovilakam
Basilica of Our Lady of Dolours: Puthenpally
Popularly known as the Puthenpally literally translated into "new church", the Basilica of Our Lady of Dolours was founded in the year 1814. The church building spreading over an area of 25000 square feet has a maximum height of 260 feet (79m) making it the 3rd tallest church in Asia.
Built in gothic style, its sky-high belfries, double storied aisles all along the nave and trancepts,11 alters, 5 on either side of the main alter, all add to the charm and elegance of this place.
Puthenpally is a minor basilica under the Syro – Malabar Catholic Church. One of the largest churches in India, the interiors of Puthenpally is adorned with murals of the holy trinity, images of saints and scenes from scriptures etc.
Here, one can also find the pulpit and throne used by Pope John Paul II during his visit in 1986.
Mass timings: 6:00am, 7:30am, 5:00pm (usual days)
6:00am, 7:30am, 10:00am, 5:30pm, 7:30pm (Fridays)
6:00am, 7:30am, 9:30am, 4:45pm, 6:00pm, 7:30pm (Sundays)
Other important churches in Thrissur:
Our Lady of Lourdes Metropolitan Cathedral
St. Mary's Syro – Malabar Catholic Church
Vilangan Kunnu
Vilangan Kunnu or Vilangan Hills is a green hillock 80m high from sea level situated near Trissur . The hills give a panoramic view of Thrissur city and kole wetlands. Maintained by the Trissur Tourism Promotion Council the hilltop has an amusement park for children. The sunrise and sunset views from here are breathtaking. Apart from the children's park the hillock has an open air theatre, kudumbasree canteen, vilangan trekkers club and the ashokavanam samiti which maintains the medicinal garden here called the ashokavanam.
Vilangan kunnu is situated at a distance of 62 kms from Cochin International airport and 9kms from thrissur railway station.
Timings: 7:00am – 7:00pm
Malakkappara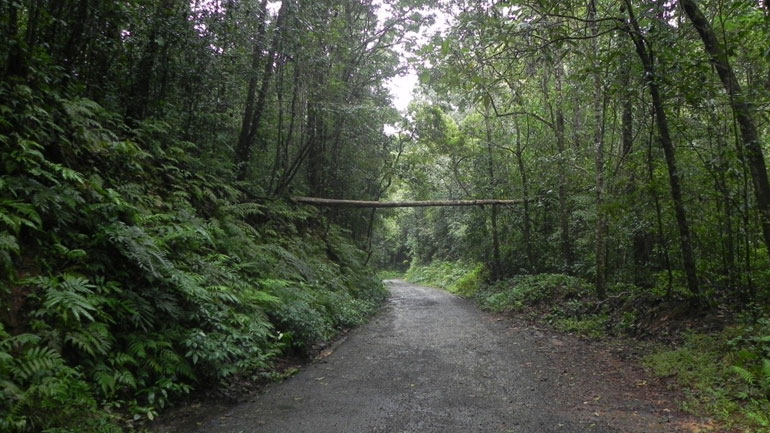 Situated at a distance of 86kms from Chalakkudy, malakkappara is along the borders of Tamil Nadu. This little explored tourist destination is away from the crowd and pollution of the city and offers fresh air and a beautiful natural get-away for its visitors.
The area consists of Tata tea estates and forest area of the Kerala Forest Department under Vazhachal and Malayatoor forest divisions. Tourists can take part in the jungle safari through the forests that house many endangered and endemic species of flora and fauna.
Malakkappara is situated at a distance of 89 kms from Cochin International airport and 107 kms from Thrissur railway station.
Punnathoor Kotta Elephant Camp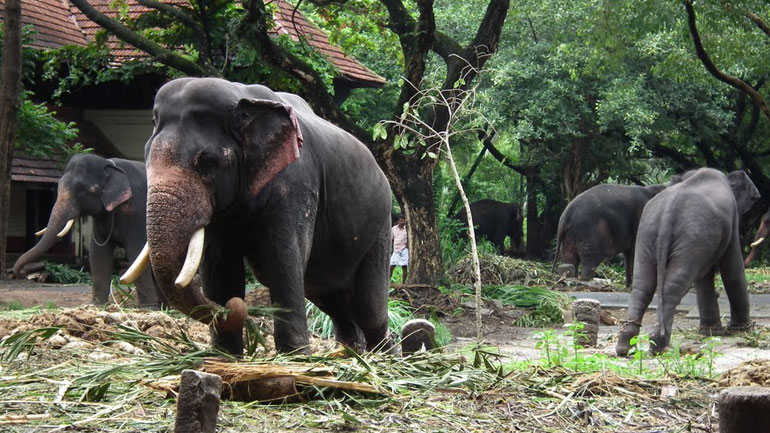 Within the 10 acres of land at Punnathoor under the ownership of Guruvayoor devaswom is the unique elephant sanctuary of Punnathoor kotta situated. Currently housing around 60 elephants, this is a must visit location near Guruvayoor temple.
In a land where elephants have been traditionally considered symbols of wealth and prosperity, it is not surprising to see, a training and grooming centre dedicated to them. Many of these elephants here are offerings by devotees to the Guruvayoor temple. One can watch how elephants are trained to perform ritualistic performances and are given traditional treatments here.
It is situated at a distance of 81kms from Cochin International airport and 3kms from Guruvayoor railway station
Timings: 9:30am – 5:30pm