Kochi or Cochin also known as queen of Arabian Sea, is one of the most important port cites in South India. It has always attracted traders, tourists, travelers and explorers and is still one of the most travelled to locations in the country.
Below are few important places to visit in Kochi.
Kerala Folklore Centre and Museum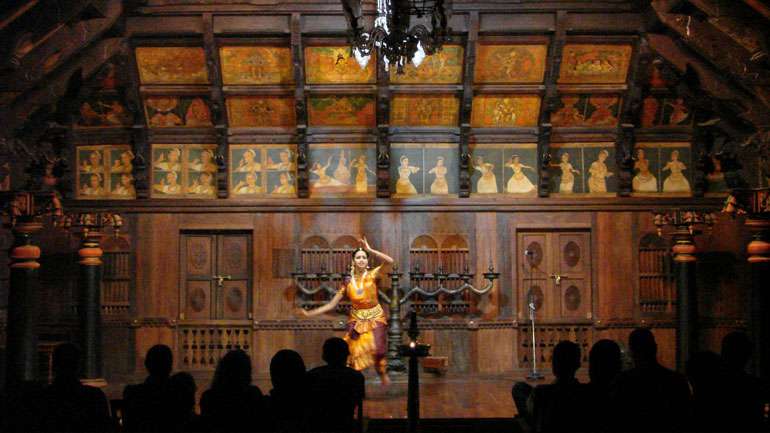 Opened in 2009, Kerala Folklore Centre and Museum aims at preserving and promoting the rich cultural heritage of south India. Created by over 60 skilled carpenters, this museum boasts of a collection of 4000 artifacts. This encompasses an assortment of stone, wood and bronze sculptures, ancient terracotta, Stone Age objects, jewelry, paintings, oil lamps, musical instruments, tribal and folk art, wood works, utensils etc.
Folklore museum is situated in Tevara, Kochi at a distance of 35Kms from Cochin International Airport and 5Kms from Ernakulam Town railway station. There are live performances conducted by the theatre here every day at 6:30pm.
Timings:  9:30am – 6:00pm
Entry fee: INR 100 (adults)
INR 50 (students)
Other important museums in kochi :
Indo-Portuguese Museum
SVC Maritime Museum
Fort Kochi Beach Museum
Museum of Art and Kerala History
Catholic Art Museum
Santa Cruz Basilica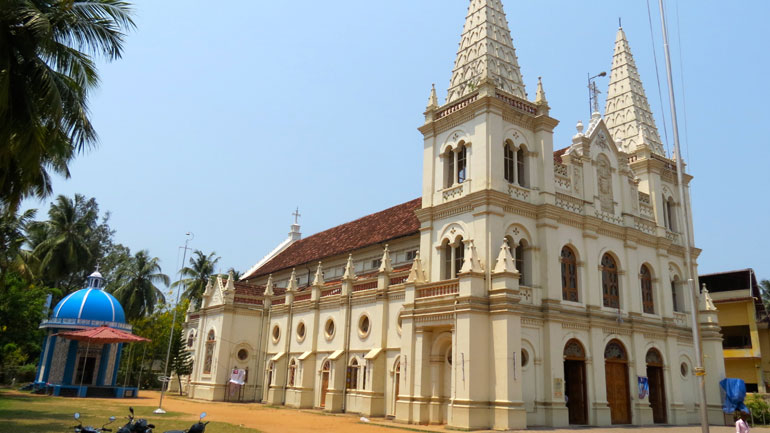 With a fine combination of religious and historic significance Santa Cruz Basilica is endowed with architectural and artistic grandeur with visible influences of the gothic style.
History of this basilica, one amongst the 23 basilicas in India, dates back to the 1500's with the arrival of the Portuguese. The replica of "The Last Supper" by Leonardo da Vinci is just one amongst the breathtaking sights in its interior embellishments.
Situated in Fort Kochi it is at a distance of40Kms from Cochin International Airport and 12Kms from Ernakulam Junction railway station.
Timings: 9:00am -1:00pm and 3:00pm – 5:00pm (weekdays)
 Sunday mass: 5:30am, 6:45am, 8:00pm, 9:15pm, 4:30pm
Other important churches in Kochi are:
Church of St. Francis
Vallarpadam Church
Jeevamatha Church
Mattanchery Church
Edappally Church
Kadamattom Church
Little Flower Church
Malayttoor Church
Paradesi synagogue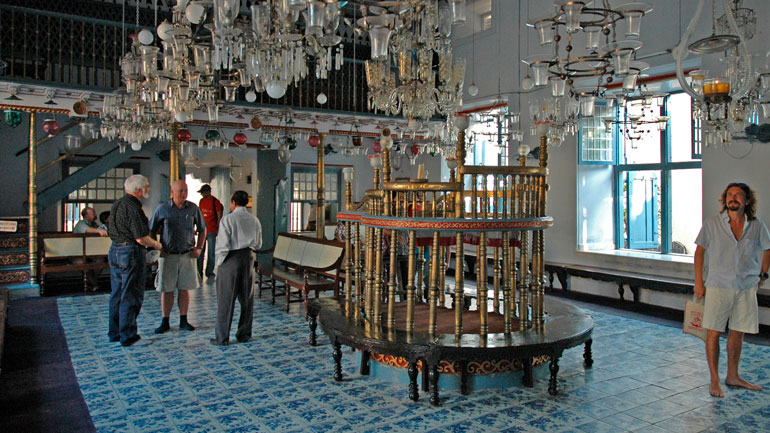 Paradesi Synagogue is also known as Mattancherry Synagogue or Cochin Jewish Synagogue and was constructed on 1560's. It is the oldest active synagogue in the Commonwealth Nations. It was partially destroyed by the Portuguese in the 16th century but was later reconstructed by the Dutch.
This synagogue is house to several antiquities of great value. This includes the Scroll of Law, gold crowns received as gifts, Belgian glass chandeliers etc. The flooring is done using hand painted tiles imported from China. The complex also has an 18th century clock tower.
Situated in the quarter of Old Cochin, known as Jew Town, it is at a distance of 45Kms from Cochin International Airport and 10Kms from Eranakulan Junction railway station. It is open on all days except Fridays, Saturdays and Jewish holidays.
Timings: 10:00am -12:00 noon
3:00pm – 5: 00pm
Cherai Beach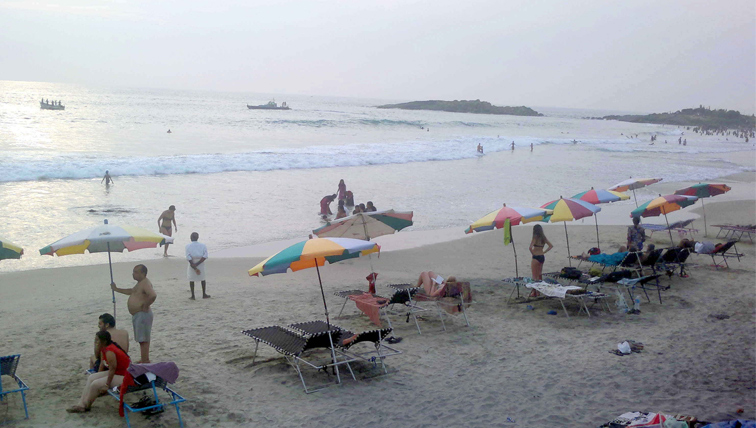 Located at the north end of Vypin Island, Cherai beach is also known as the "princess of Arabian sea". It has a coastline of about 15kms and is a perfect blend of sea and backwaters. It offers a magnificent view of the sunset. It is a must see tourist spot in Cochin and a perfect destination to get away from the monotony of the city.
It is at a distance of 30Kms from Cochin International Airport and 20Kms from Aluva railway station.
Other important beaches in Kochi:
Fort Kochi beach
Puthuvype beach
Kuzhuppilli beach
Vypin beach
Njarakkal Arattuvazhi beach
Mattancherry Palace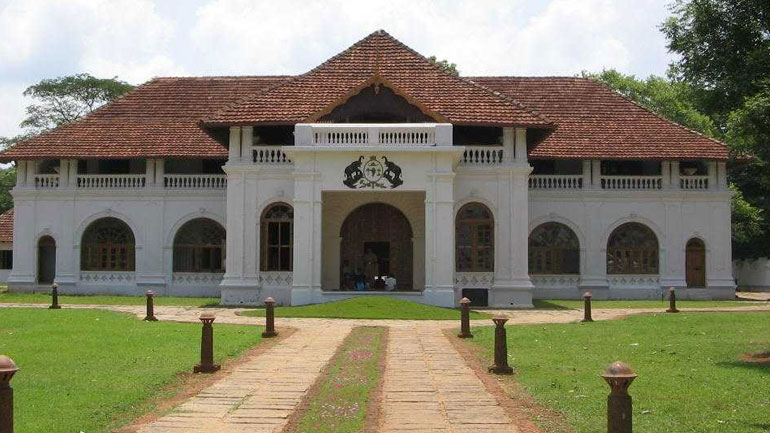 Mattancherry Palace also known as the Dutch Palace was originally constructed by the Portuguese in 1550's.They presented it to the King of Cochin, Raja Veera Kerala Varma. In the 1660's the Dutch renovated the palace conferring the name it is popularly known as – Dutch Palace.
The palace is built in traditional Kerala "Nalukettu" style with four separate wings opening into a central courtyard.
The palace is adorned with intricate mural paintings depicting scenes from the Ramayana, the Mahabharata and the Puranas dating back to as far as the16th century.
The palace is also home to various royal memorabilia including royal palanquins, royal umbrellas made of silk and brass, ceremonial royal swords, coins, stamps drawings etc.
As the name suggests the palace is situated in Mattancherry, near the Paradesi synagogue and it is at a distance of around 45kms from Cochin International Airport and 10kms from Ernakulam junction railway station.
Timings: 10:00 am- 5:00 pm
Entry fee: INR 2
Other important palaces in Kochi:
Hill Palace and Museum
Paliam Palace and Museum
Bolgatty Palace
Ernakulam Shiva Temple
Ernakulam Shiva temple also known as Ernakulathappan temple (meaning- Lord of Ernakulam) is one of the most important temples in the city. The history of this temple is, dedicated to lord Shiva is deeply interlinked to the history of the city itself and was one of the 7 royal temples of Kochi Maharajas. This is one of the rare temples with the idol facing the west.
With the stories of the temple dating back to the Mahabharatas, it also has other deities including lord Ganesha, goddess Parvathi, lord Ayyappa and Nagaraja.
One of the grandest festivals in Kochi city is the 8 day long temple festival (uthsavam) of the Shiva temple normally celebrated in December- January with thousands of devotees arriving from various parts of the country and abroad. Inside the temple complex is also the temples of lord Muruga and lord Hanuman built in tamil and udupi styles respectively.
The temple is at a distance of 35 kms from Cochin International Airport and 2 kms from Ernakulam Junction railway station.
Timings: 3:30am – 11:00am
4:00pm – 8:00pm
Other important temples in Kochi:
Sree Poornathrayeesa temple
Thrikkakara temple
Chottanikkara temple
Dakshina Mookambika temple
Chakkamkulangara Navagraha temple
Iringole Kavu
Thattekkad Bird Sanctuary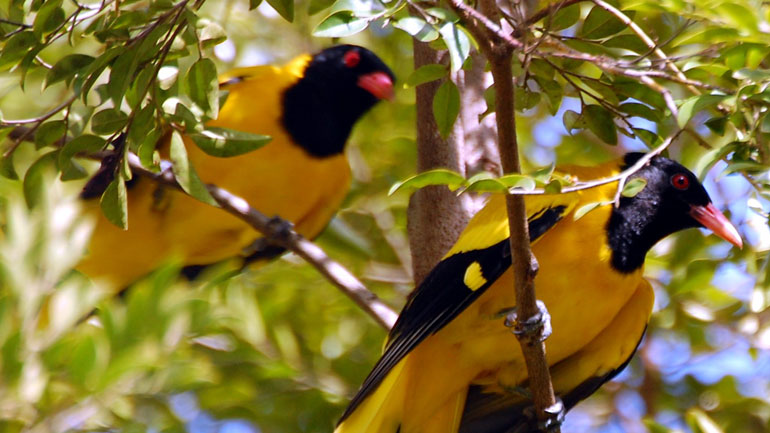 Thattekkad bird sanctuary or The Salim Ali bird sanctuary got its name from Dr.Salim Ali who described this sanctuary as "the richest bird habitat in peninsular India".This bird sanctuary spread merely over 25 sq.kms is house to more than 300 species of birds, 28 species of mammals and 9 species of reptiles.
It is located between the branches of Periyar River, at a distance of 12kms from Kodamangalam. The nearest airport is Cochin International Airport is 44kms away and the nearest railway station at Aluva is 4kms away.
Best time to visit: October- February
Other bird sanctuaries in Kochi:
Mangalavanam Bird Sanctuary
Wonderla Amusement Park

Wonderla is an eco-friendly amusement park is situated in Pallikkara, 12kms away from Kochi city. The park was setup in 2000. It offers safe and well supervised world class entertainment with adventure. Apart from land and water based rides, the park also have a 3D virtual reality attraction and a digital indoor musical fountain and laser show. The park promises a complete fun and adventure filled day to all its visitors.
Timings: 11:00am – 6:30pm (regular days)
11:00am – 8:00pm (peak days)
Ticket Prices: Regular days – adult – INR 1100
Child/ senior citizen – INR 890
Peak days – adult – INR 1200
Child/senior citizen – INR 950
Kodanad Elephant Training Centre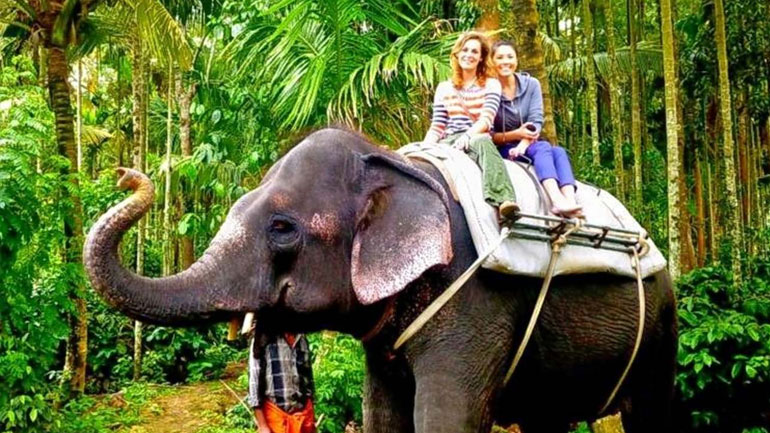 Kodanad elephant training centre is the largest of its kind and is a major tourist attraction in Kerala. It is situated on the southern banks of Periyar River at Kaprikkad, 3kms from Kodanad.
In the 1950's and 60's elephants captured from Malayattoor forests (east and north of Kodanad) were trained here. After the ban on elephant capture in 1970's it is now primarily a rescue training centre.
Tourists can take part in elephant safaris here and can watch them being bathed and fed. The centre is situated 20kms from Cochin International Airport and 25kms from Aluva railway station.
Timings: 10am – 5:00pm (weekdays except Monday)
8:00am – 12:00pm (Sundays)
Best time to visit: September – May
Bhoothathankettu Dam and Reserve Forest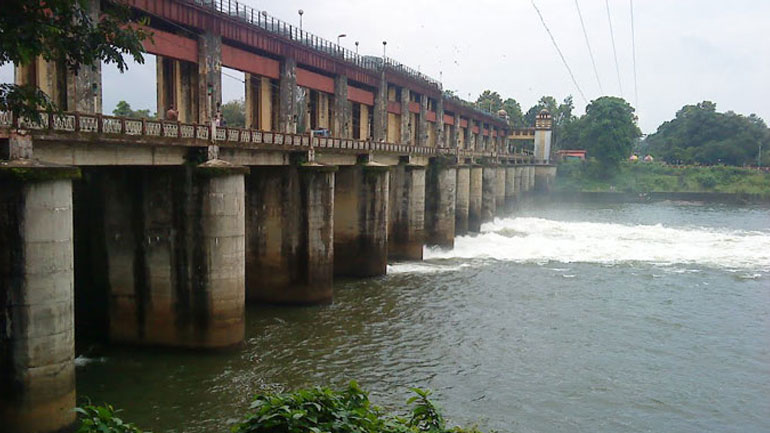 This is a major tourist spot located outside the village of Pindimana about 10kms away from the town of Kodamangalam and 50kms from Kochi city. It got the name "bhoothathankettu" from a rural myth that the dam was built by "bhoothas" (demons) overnight.
The two main irrigation projects of Ernakulam district, Periyar valley irrigation project and Idamalayar irrigation project are also locate nearby. Trekking through the virgin forest here with various species of medicinal plants is a refreshing experience. The dam also has a children's park, a pedal boating centre and a restaurant.
It is situated at a distance of 37 kms from Cochin International Airport and 44 kms from Aluva railway station.
Bastion Bungalow

Bastion Bungalow built in the late 1660's is situated on Napier Street, Fort Kochi. According to history books, the Portuguese built fort Immanuel during early 16th century. Later out of the original 7 bastions most of which were destroyed by the Dutch during their rule; the Stormberg Bastion was converted into bastion bungalow.
It is a fine example of the amalgamation of Indo- European architecture with major influence of the Dutch style. The bungalow today is the official residence of the sub collector. It is believed that there are a number of secret tunnel networks beneath the bungalow though none of them have ever been discovered. In February 2016 the heritage museum in the bungalow was opened to the public.
It is situated 14kms away from the Cochin International airport and 13kms from Ernakulam junction railway station.
Other bungalows in Kochi:
Pierce Leslie bungalow
Cochin Spice Market
Kochi was once known for its spice trade and was a bustling city with foreigners from Arab countries, Europe and other parts of the world leaving the city with cargos of spices.
Though it has lost its grandeur over the year, you will still find roadsides lined with warehouses and shops selling and exporting spices like turmeric, dried ginger, cardamom, cloves and pepper, also known as black gold. Even today a trip to Fort Kochi is not complete without a walk down this street.
Bishop's House
Once the residence of Portuguese Governor; the Bishop's House was built in 1506. It was acquired by Dome Jos Gomes Ferreira, the 27th Bishop of Diocese of Kochi in 1988. The house personification of Indo-Portuguese architecture now famous for its façade made of large arches with a distinct Gothic influence. The house comprising of magnificent corridors, living rooms, wooden staircase, beautiful stained glass window etc. still maintains its old world charm.
The Bishop house is situated near Parade Ground in Fort Kochi and is at a distance of 26 kms from Cochin International Airport and 5Kms from Ernakulam Junction Railway Station.
Marine Drive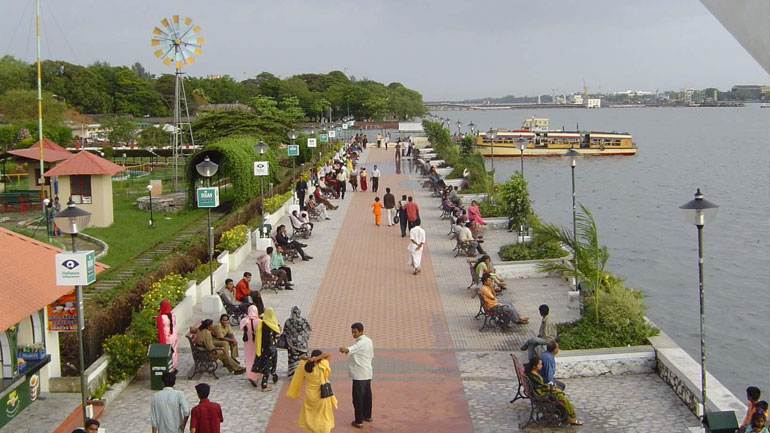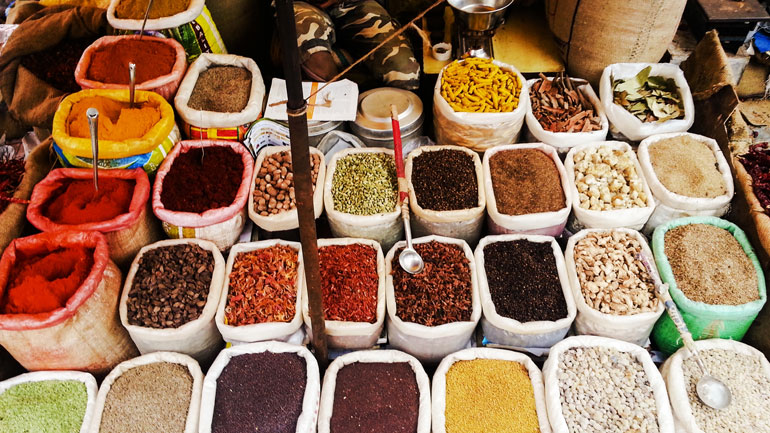 A picturesque location along the Kochi Backwaters, marine drive offers a scenic view of the Kochi Harbor. The walkway here consists of 3 contemporary bridges: the rainbow bridge, the Chinese fishing net bridge and the house boat bridge.
Shopping malls, cinema halls and supermarkets along it cater to the shopping crowd of Cochin. It is situated at a distance of 29 Km from Cochin International Airport and 3 km away from Ernakulam Junction Railway Station.
Subhash Park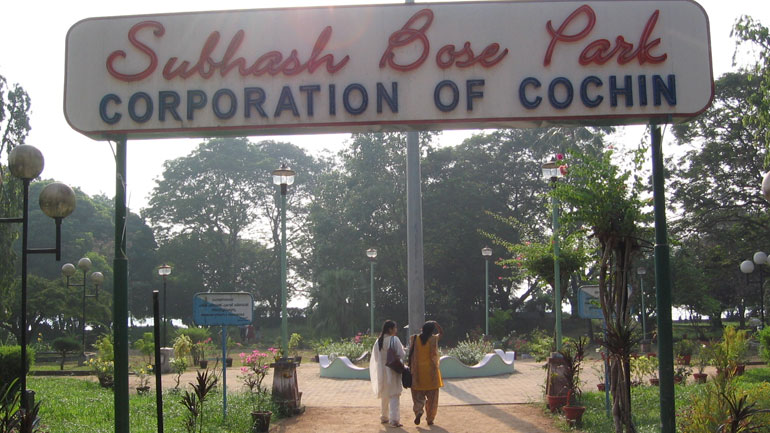 Located adjacent to Marine Drive, Subhash Park overlooks the Vembanad Lake's backwaters and the Kochi harbor. Subhash Park is under Greater Cochin Development Authority and is adjacent to Children's Park, which is maintained by central government funds. Though situated in the heart of the city of Kochi, opposite to Maharaja's College, this public park has a scenic view of the harbor complete with passenger boats, ships at the port, fishing boats and yachts. The Gulmohar trees which blooms in the summer is a visual treat and cool breeze from the backwater in the evenings, form a great escape for the summer heat. Subhash Park is an ideal location to spend an evening with kids, they have several swings, seesaws, merit-rounds etc which the kids can play on.
It is located at a distance of 29 Kms from Cochin International Airport and 3 km from the Ernakulam Junction Railway Station.
Other important parks:
Cochin Science Park,
Thanneerchal Park
Children's Park,
Changampuzha Park
Chinese Fishing Nets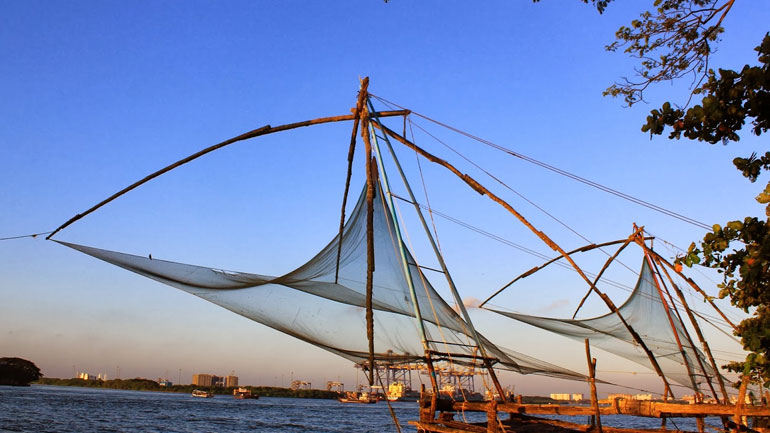 Chinese fishing nets are land installations sprawling over 20m into the water body used for fishing. They are said to have been brought to India by a Chinese explorer in the court of Kublai Khan and are usually operated by 6-7 men.
Chinese Fishing nets are synonymous with the face of Kochi and is a never miss sight for tourist in the city. One can get the finest view of them at Kumbalangi as well as at Fort Kochi. At times the operators do cook freshly caught fish for the tourists at a reasonable price. If you get a chance do not miss, it is spicy and fresh!
 Loafer's Street
Loafer's Street popularly known as Princess Street is located in the heart of Kochi city. Remnants of the British Colonial past are evident here in the form of houses and avenues that line this street which evidently display the marvels of British Architecture. It is a popular hangout of both the locals and foreign tourists. Shopping of amazing handicrafts, cloths, jewellery and others is one of the best things to do here.
It is located at a distance of 45 km from Cochin International Airport and 13km from Ernakulam Town Railway Station.
Vasco da Gama Square
Vasco da Gama Sq. is a narrow promenade along the beach, situated at Fort Kochi. It gets its name from the great Portuguese explorer Vasco da Game who discovered sea route to India in the 15th century. The huge fishing nets lining the shore here is a reminder of the spell bounding past of this city.
Vasco da Game square is ideal for a relaxed evening away from bustle. The square has numerous stalls; selling edibles like mouth watering sea foods, tender coconuts etc.
It is located at a distance of 35km from Cochin International Airport and 15km from Ernakulam Junction Railway station.