Most Popular Places to Visit in Wayanad
Situated in the mountains of Western Ghats in northeast region of Kerala, Wayanad district is one of the best tourist destination in Kerala. Wayanad is the only district in Kerala that shares its borders with Karnataka and Tamil Nadu. Wayanad is creating a new boom among tourists from across the world by its unbelievable beauty.
Recently, Wayanad become the top holiday destinations for travellers across the globe. Whether it is a family trip, group trip or a honeymoon trip, everyone opts for Wayanad. The reason behind is it's unique and jaw dropping beauty of hill stations, green zigzag valleys, trekking and camping spots, tea gardens, deep forests, temples, famous chain tree, wildlife, beautiful lakes, waterfalls, and more.
Wayanad at a Glance
Famous for – Chain Tree, Wildlife, Dense Forests, Waterfalls, Tea Plantations and more.
Shares Borders with – Bangalore and Tamil Nadu
Best Season to Visit – During Summer (Best Months March, April and May), winter (between Decembers to February).
Weather – During summer up to 36°C, in winter season there is downfall of temperature up to 10°C.
How to Reach Wayanad
Wayanad has a strong communication connection with most of the metro cities and other places.
Reach Wayanad by Air
The nearest airport to Wayanad is Calicut International Airport, which is about 65 km from Wayanad. Visitors can commute from various metro cities to Wayanad airport. After reaching airport, travellers can catch a taxi, bus, auto, etc. to reach the destination.
Reach Wayanad by Road
Road journey is more adventurous to Wayanad. KSRTC buses are available form various cities like Bangalore, Mysore, Kochi, Chennai and Trivandrum to Kozhikode. There are also different buses that drop up to Wayanad.
Available bus from various cities to Wayanad
Bangalore to Wayanad
Hyderabad to Wayanad
Ernakulam to Wayanad
Alleppey to Wayanad
Mysore to Wayanad
Available bus from Wayanad to various cities
Wayanad to Bangalore Bus
Wayanad to Hyderabad Bus
Wayanad to Ernakulam Bus
Wayanad to Alleppey Bus
Wayanad to Mysore Bus
Reach Wayanad by Rail
Visitors can also reach Wayanad by railway. The nearest railway to Wayanad is Kozhikode. After that, visitors can book taxis, buses, etc. to Wayanad.
Top Places to Visit in Wayanad
There are plethora of attractions in Wayanad to pay a visit. If Wayanad is your next holiday destination, do visit Wayanad, which is famous for Hill station, deep forestlands, waterfalls, and more. You can book your holidays with your family, friends, and groups. This is also a perfect honeymoon destinations for newly wedded couples. You can choose the number of days you want to spend in Wayanad. Divide the time so that you can enjoy all the popular destinations in Wayanad. Find below the names of places in Wayanad to spend your holidays.
Chembra Peak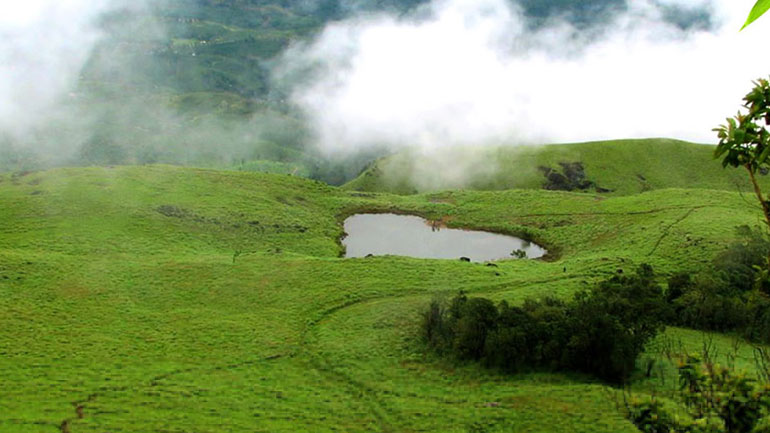 Chembra Peak is one of the most famous destinations among visitors. It is the highest peak in Wayanad at 2,100 m above sea level. It is one of the best trekking spot for the trek lovers. The peak is near Meppadi and is around 8 km south of Kalpetta. What you will love in this peak is its heart shaped lake on the way to Chembra Peak. The famous and important thing about this lake is that it never gets dry. It is a perfect photography spot. Visitors can camp at the top of the peak and stay there for one or two days to enjoy the nature.
"Unfold the beauty of Chembra Peak and enjoy its natural beauty."
Edakkal Caves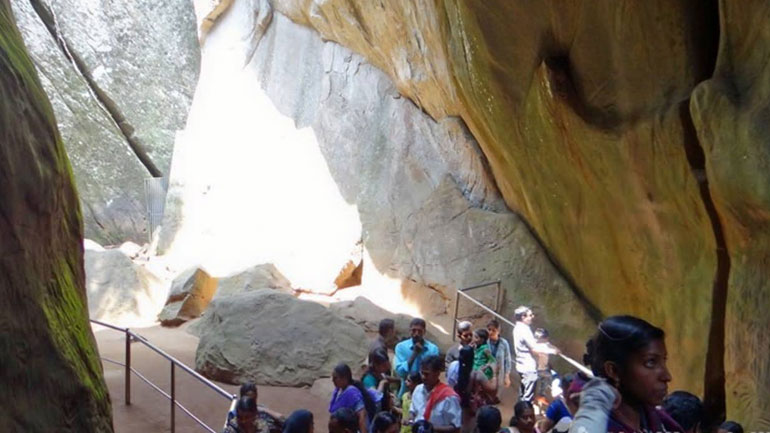 Edakkal Caves is one of the best tourist places in Wayanad. It is located in a remote place named Edakkal, which is 25 km from Kalpetta. The caves lies 1,200 m (3,900 ft) above sea level on Ambukuthi Mala. The caves is famous for its rock carvings of different shapes that represents humans and animals. In simple sense, the carvings represents the prehistoric age. It is also a trekking spot in the rocky mountains.
Visiting Hours
Tuesday –        8:30AM–4PM
Wednesday – 8:30AM–4PM
Thursday –      8:30AM–4PM
Friday –            8:30AM–4PM
Saturday –       8:30AM–4PM
Sunday –         8:30AM–4PM
Monday –        Closed
Banasura Sagar Dam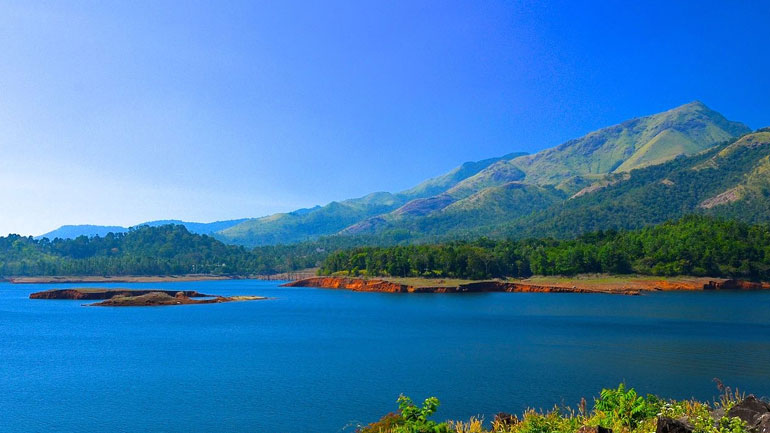 Banasura Sagar Dam is one of the largest earth dam in India. The dam is located in Kalpetta. The dam made in the Banasura Lake. It has great scenic beauty. The mountain adds an extra gem to the place. Visitors can take candid photos in dam. Apart from that, visitors can do speed boating, motor boating and more. It is also a great trekking point, amazing sightseeing, mountains, and more. Visitors can get local spices, coffee, tea, bamboo stuffs, honey, herbal plants and more from the local shops in Wayanad.
Entry Fee – Rs. 10 per Person, Rs. 450 for 5 person for speed boating, Rs. 10 Parking Charge, Rs. 20 for still photographs.
Wayanad Wildlife Sanctuary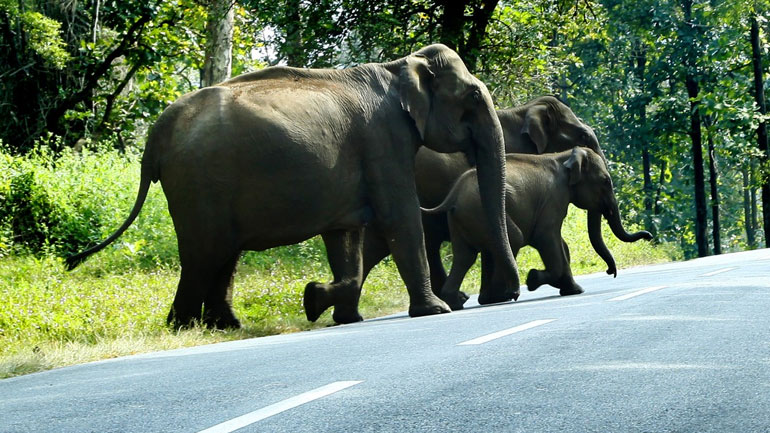 Wayanad Wildlife Sanctuary is a wildlife Sanctuary located in Wayanad. It is one of the second largest wildlife sanctuary in Kerala. Visitors will be mesmerised by the 344.44 km2 area of the Sanctuary. You will get an awesome experience in the deep and dense forest. You will get to see different wild animals like Indian bison, elephant, deer, tiger, etc. Apart from that, you will get see varieties of birds in the Sanctuary.
"Enjoy the lush green forests and rich wildlife in the Sanctuary"
Visiting Hours
Sunday –          7AM–12PM
Monday –        Closed
Tuesday –        7AM–12PM
Wednesday – 7AM–12PM
Thursday –      7AM–12PM
Friday –           Closed
Saturday –       7AM–12PM
Pakshipathalam Bird Sanctuary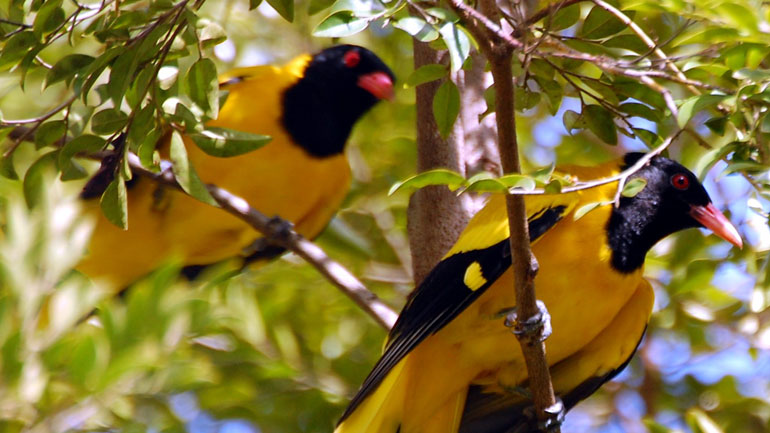 Nature lovers will love to visit the Pakshipathalam Bird Sanctuary. You will get to see flock of birds chirping and playing in the ground. Inside the sanctuary, visitors will love the orchid plantations and different herbs. You can also make a camp and stay overnight to enjoy the amazing moment. There is also a trekking option in the place. There is also a watchtower in the place to guide the visitors and navigate their ways.
Best Time to Visit – October and January
Closed – February till May
Timings
06:00 AM to 06:00 PM, Open in all days
"Enjoy the wildlife scenes with your family, kids and friends"
Pookode Lake, Kalpetta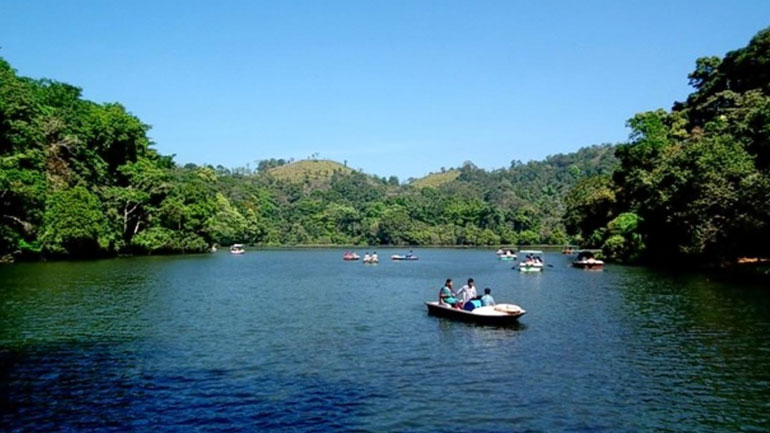 Pookode Lake is a freshwater lake in the Wayanad district in Kerala. It has a great scenic beauty. The lake is 15 km away from Kalpetta. In the lake visitors will get to see blue lotus, fish and greenery everywhere. Things to do in Pookode Lake are boating, a great picnic spot, a children's park for kids, aquarium, a handicrafts' emporium. The shape of the lake is like the Map of India. An amazing natural beauty is the Blue water lily flowers in the lake.
Neelimala View Point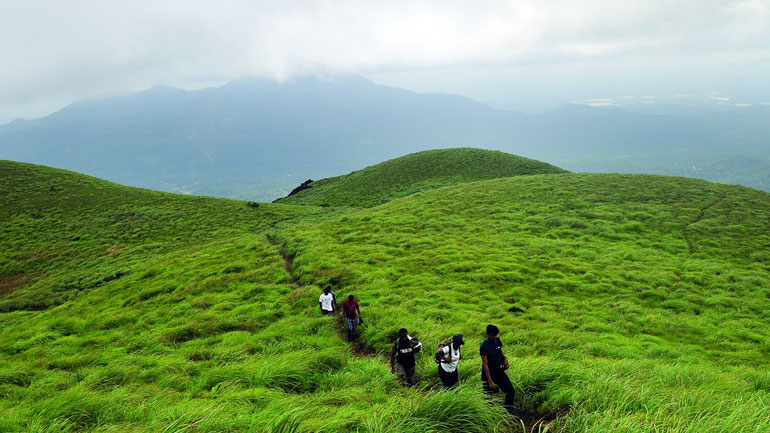 This is a splendid view in the heart of the Wayanad. Covered by dense forest and lush green trees, Neelimala Viewpoint will give you a jaw dropping experience. It is located in Vaduvanchal in Wayanad. You can feel the cool breeze in the place. It has an amazing cooling breeze. Tourist will amazed by the great mountain view in the clouds, chirping of birds, flying of colourful butterflies, and more.
Visiting Hours
Sunday –          Closed
Monday –        9AM–6PM
Tuesday –        9AM–6PM
Wednesday – 9AM–6PM
Thursday –      9AM–6PM
Friday –           9AM–6PM
Saturday –       Closed
Meenmutty Waterfalls 
Meenmutty is the largest waterfall in Wayanad. This is a three-tiered waterfall with a height of 300 metres. The waterfall is 25 km from Kalpetta, 5 km from Banasura Dam and 48 km from Sulthan Bathery. It is a trek spot form jungle trek of the main Ootty road and is only 2 km. Tourist love this place for its beautiful scenery and specially the three-tier fall. The fall is in the middle of lush green forest, which gives an amazing view.
Entry Fee – Rs. 20 for Adults, Rs.10 for Children, Rs. 25 for Still Photography, Rs. 150 for Video Camera, Rs. 200 for Foreigners, extra charge for Parking is also available.
Visiting Hours
Sunday –         8AM–4:30PM
Monday –        8AM–4:30PM
Tuesday –       8AM–4:30PM
Wednesday – 8AM–4:30PM
Thursday –     8AM–4:30PM
Friday –           8AM–4:30PM
Saturday –      8AM–4:30PM
Soochipara Falls, Kalpetta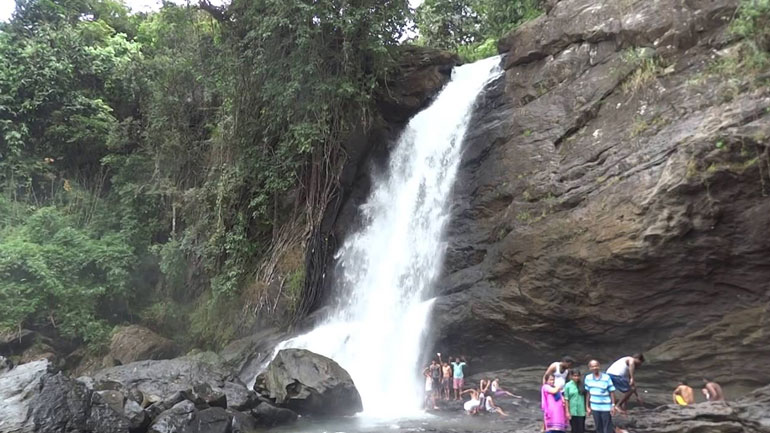 The fall is also known as the Sentinel Rock Waterfalls. The fall is in Vellarimala, Wayanad. It is a great tourist place. Visitors love to take bath in the fall. You can relax and arrange for a great picnic day. Visitors can also pay a visit the tea plantations, which is near the fall. There is also a pool at the base for swimming. Enjoy the cool ambience in the fall and do capture the moment.
Visiting Hours
Sunday –         9AM–5:00PM
Monday –        9AM–5:00PM
Tuesday –       9AM–5:00PM
Wednesday – 9AM–5:00PM
Thursday –     9AM–5:00PM
Friday –           9AM–5:00PM
Saturday –      9AM–5:00PM
Kuruva Island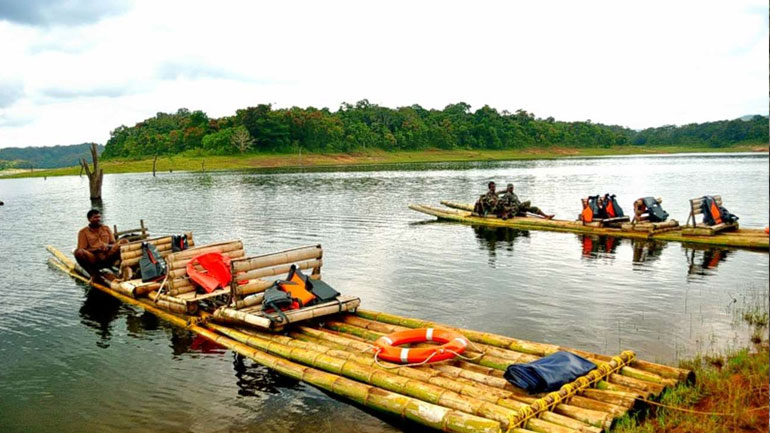 It is a small Island on river Kabini in Wayanad, Kalpetta. Visitors love to do the bamboo raft, which is famous among the visitors. You will hear and feel the great humming of birds, amazing boat tour of the lake, and more. There is also a long trek through the forest on the Island. The lake is covered by green trees all around. It is also a home for plethora of flora and fauna.
"Enjoy the eco-friendly nature and mingle with the breeze of the place"
Chain Tree, Wayanad
Chain Tree is one of the most visited tourist destination. It is located along the national highway near the Pepper Wayanad and Gate Hotel. Visitors will mesmerised by the unique beauty of the Chain Tree. Chain Tree is a Ficus tree with a massive steel chain hanging on it. The tree is around 25 feet tall. A small temple is there near the Chain Tree. The tree has certain religious beliefs.
Thirunelli Temple 
Thirunelli Temple is an ancient temple dedicated to the Lord Maha Vishnu on the side of Brahmagiri hill in Wayanad. The place will give a peace of mind, and will relax your mind. The temple is surrounded by deep green forests and a great wildlife scenario. It is believed that the temple is a sub-deities of Ganapathy, Hanuman and Nagam.
"Pay a visit to the temple and get a peace of mind and get the blessings"
Bathery Jain Temple
The Bathery Temple in Sulthan Bathery is one of the most visited destinations among tourists. The temple was built during the 13th century. The design of the temple has a great architectural beauty. Nearest station to the temple is Kozhikode, 97 km from Sulthan Bathery.
Highlights on Things to do in Wayanad
Camping (Do take all the materials along with you)
Cycling Tour
Campfire
Experience the Tea Plantations
Wildlife Safari
Photography in the deep forests
Know the history of the historic places in Wayanad
Boating
Bamboo Rafts
Experience a stay in the tree House
Walk around the lakes in Wayanad
A night stay at forest
Resorts to Head in
Vythiri Village resort
Oxyfarm Resort
Blue Ginger Spa Resorts
Windflower Resort
Banasura hill Resort
Silverwoods Resort
Kedara Village Resort
The Meenmutty Heights
Petals Resorts Wayanad
Sharoy Resort
For more details, stay tuned to our website.
Here is some package tours to explore Kerala. Kerala family tour packages & Honeymoon packages to Kerala